About us
About MK ILLUMINATION
MK Illumination creates tailor-made experiences that connect with people's emotions through festive lighting, decoration, interactive worlds. We deliver decorative solutions for every occasion and in size or scale. As a global business with local expertise MK Illumination leads the way in design, innovation, technical excellence service and sustainable solutions.
MK Illumination provides a comprehensive service in three main areas: Retail Real Estate, Leisure and Public Spaces. Offering three main product areas: Lighting, Decorations, Grottos and animation. MK Illumination maintains independently run subsidiaries in 30 countries, allowing each business to benefit from a global approach linked with local knowledge.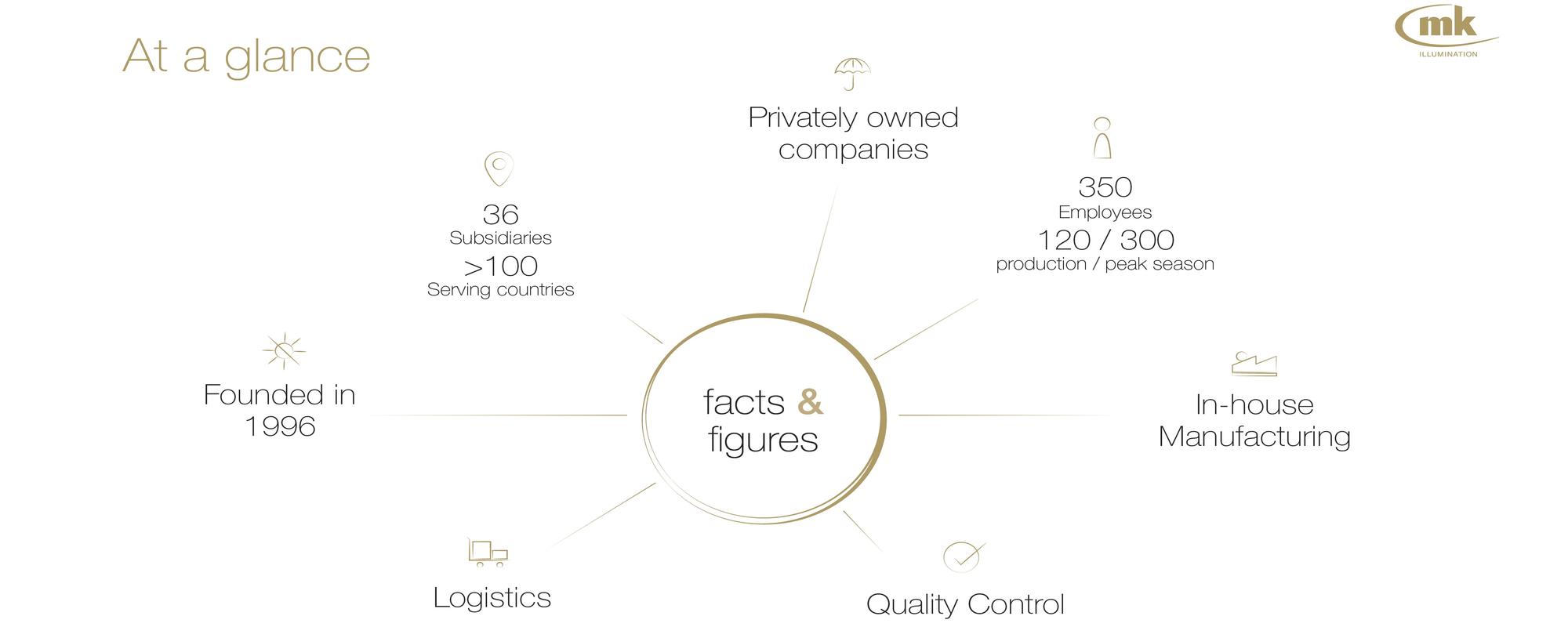 Facts & Figures
Founded in 1996 – Headquarters in Innsbruck, Austria
Turnover
2017: expected: 100 million €
2016: 82 million €
2015: 72 million €
2014: 63 million €
2013: 54 million €
2012: 50 million €
2011: 47 million €
2010: 40 million €
2005: 15.20 million €
2001: 4.27 million €
Performance
Active in more then 120 countries
Headquarters in Innsbruck, Austria
Subsidiaries in 30 countries
Employees
HQ: 52
Subsidiaries: ~300
In total throughout the year: 352
Manufacturing facility in Slovakia, Mexiko, Romania, Turkey, China: 120 – 300 (during the peak season)
Who we work with
We either work directly with our clients or we draw on the services of a local partner, such as a company of specialized electricians, decorators or partners who have the necessary skills and experience.
Manufacturing Facility in Prešov, Slovakia
Since 1999 our specially trained artisans at our expansive, 9,000-m² facility in Prešov passionately dedicate themselves to creating 30,000 handcrafted motifs each year for MK's tailor-made illumination concepts. It is this dedication that results in the creation of our LIMITED LINE and COLLECTION LINE, both designed to bring light and joy into people's lives all over the world.
Quality Standards Department in Shenzhen, China
MK Illumination makes no compromise when it comes to the quality of its stock. That is why the company runs a special Quality Standards Department in China, which is charged with checking and confirming the quality of products manufactured in Asia for MK Illumination's PROFESSIONAL LINE to ensure they meet all of the required European quality standards.
Central European Warehouses
Agfalva, Hungary - Professional Line
Prešov, Slovakia - Limited Line & Collection Line
National warehouses in all subsidiaries